Opening a WeChat company account is the first thing a company should think of doing when it decides that it just wants to explore the Chinese market. Certainly, given the complexity of this platform, it might be useful to be assisted by an agency who is an expert in WeChat.
Before opening a company in China, or a commercial branch, before looking for a representative or an importer, before attending a fair, a sales manager or general manager should ask himself: do we have a WeChat corporate channel with which to communicate with our brand to our audiences?
In fact, anyone interested in your brand or product will not ask you for your website (which they often do not have access to due to firewalls) or your email or telephone but the QrCode to access your personal WeChat and your corporate WeChat account. It is not common for the Chinese populations to communicate through websites and emails – all sorts of communications actually go through WeChat: even at a business level by sending written or voice messages to individuals or in group chats, sending documents, videos, images, looking for information on company accounts, booking services (from lunch to taxi), purchasing and pay through WeChat Pay, and much more.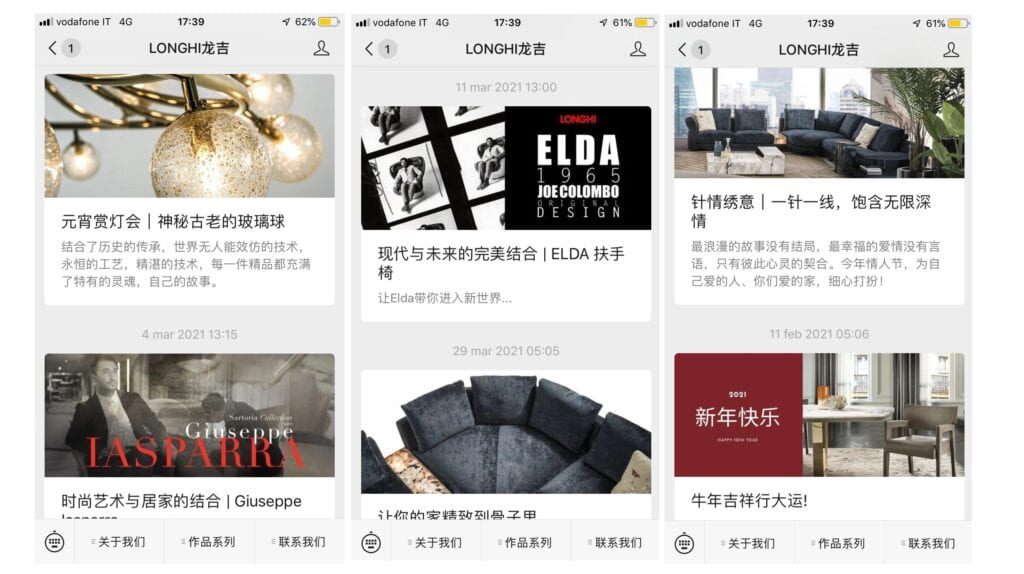 What is WeChat?
WeChat is a super app created by Tencent, an app that is incomparable to any other app: it was born as WhatsApp for messaging, but in reality today it is a mix between Facebook, Instagram, Youtube, Skype, Slack, Paypal and much more.
It is by far the most used social media channel in China and is able to reach 78% of the country's population with 1.17 billion monthly active users.
83% of Chinese use the application daily for work and all other activities: from ordering lunch to calling a taxi then to bank transfers, from dining at a restaurant to shopping, then to ordering drinks at a club, from reading the news, to watching movies and much more.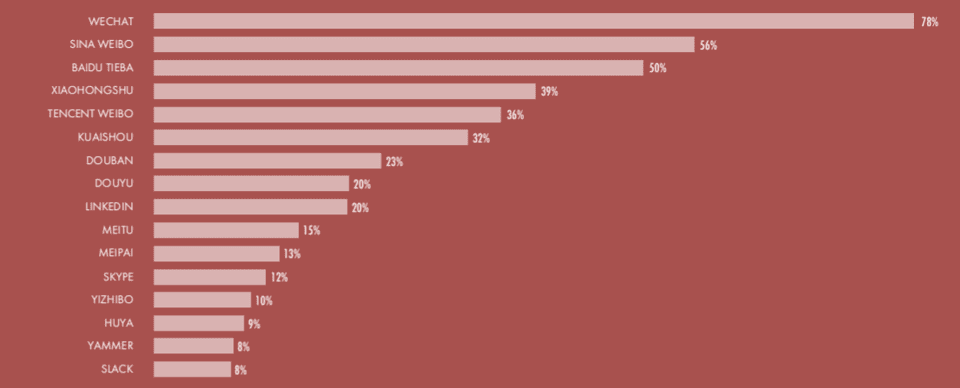 WeChat business accounts: what you can do
A WeChat accounts for a company is called "Official Accounts" which can be described as a corporate Facebook page with an add-on e-commerce function.
The Offical Account will allow companies to:
"Exist" in China
Make yourself known
Build a community of followers
Send them notifications
Selling products
The Wechat company account will present itself to users with a series of posts, sent as push notifications in chronological order of publication and, if desired, with an underlying menu that can offer more information about the company and its products. At the same time, the account can link to external links to a website or with a built-in miniprogram that can be used in various ways such as an e-commuerce store or video streaming platform.
There are different types of WeChat corporate accounts: the WeChat "Subscription" account which allows the publication of several posts per month with the limitation of 1 post a day and the WeChat "Service" account which only allows the publication of 4 posts per month. Companies that do not have a registered office in China can only open Wechat Service accounts.
Only users who decide to follow the WeChat company account will be sent push notifications on recent updates.
How to open an official Wechat account?
Opening a WeChat corporate account for a foreign company that does not have its own registered office in China can be particularly complex but DAG can support you by guiding you step-by-step along the way.
Specifically, we will help you to:
Identify and collect all the information required by the platform for opening the account
Collect and transmit the documents required by Tencent
Define the correct naming and presentation in Chinese to make your brand recognizable and your business understandable to the Chinese market
Create a tailormade brand strategy in Mandarin Chinese to properly communicate your brand
Create content, images and video content in Mandarin Chinese for your brand
Manage the Wechat community by answering questions and concerns while engaging in conversations
Increase the visibility of the channels by carrying out promotional and advertising campaigns
For more information: infodag [@] dagcom.com